Alumni spotlight: Leah Fremouw from the corner office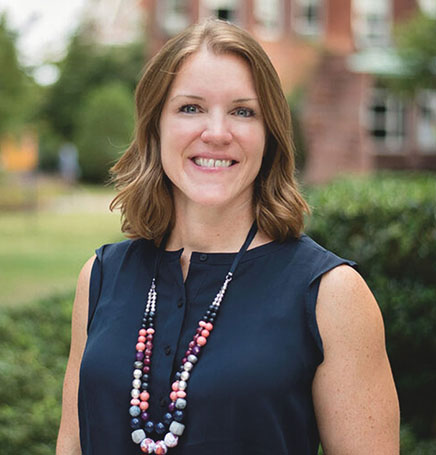 Leah Fremouw (B.A.'08/H&S; M.P.A.'10/GPA) has always preferred the view at the ground floor.
Perhaps that's why she's made a career of tackling startup roles and initiatives in organizations like CarLotz, Virginia Community Capital, TEDxRVA and Impact 100 Richmond.
She recently embarked on her boldest move yet as the new CEO of Bridging Virginia.
Bridging Virginia is an emerging community development financial services institution (CDFI) that specializes in providing qualifying small businesses in the metropolitan Richmond area with low-interest, long-dated loans as well as other capital and services.
The organization began in 2020 as an effort to provide financial services to Black-, women- and minority-owned small businesses that had been disproportionately hurt by the coronavirus pandemic.
"Bridging Virginia works to address longstanding disinvestment by investing in people and communities that have been left behind by mainstream finance," said Fremouw. "The national call for economic justice, which has become louder and more pronounced by the pandemic, has made our work, and the work of all CDFIs, more salient than ever."
Fremouw assumes the helm of Bridging Virginia following a highly successful tenure as the senior vice president and director of innovation at the region's behemoth CDFI, Virginia Community Capital. Established in 2006 with a $15 million seed investment from then-Gov. Mark R. Warner, VCC managed over $486 million in assets and drove an estimated $1.8 billion in economic impact in the commonwealth in 2021.
At VCC, Fremouw's responsibilities included leading a lean but mighty team of experts delivering specialized financial and technical assistance to individuals, organizations and nonprofits in a highly entrepreneurial role.
"Leah is a powerhouse of energy and talent who is driven by an unwavering social consciousness," said Wilder School Dean Susan Gooden. "Whether she is pumping weights or pumping ideas, Leah always hits the mark. I remember her as a student in our MPA program and one of our early Wilder Fellows in 2008. She epitomizes the best of Wilder School alumni and I look forward to following the rise and impact of Bridging Virginia."
Her plans for Bridging Virginia include expanding the organization's services beyond collateral enhancements to include direct lending of up to $50,000 to small business owners in the early phases of business development. Fremouw also hopes to add real estate financing to Bridging Virginia's suite of services and to expand its clientele to include burgeoning industries in the region.
Then, of course, there's the prospect of staffing. As Bridging Virginia's first full-time employee, Fremouw will have the opportunity to leave her imprimatur on virtually every aspect of the organization.
It's the perfect opportunity for a self-described "builder" who has fully embraced the CDFI industry and her unique role as a community leader within it.
"Sometimes, the challenge is in adjusting expectations and in helping the partners to understand that in the same way that when an industry like coal leaves a region and the economic forecast worsens gradually, progress is likewise incremental."
She counsels that many factors must align to make a community investment successful, and the most important of these is consistency in focus and action.
Fall 2022 / In this issue