Letter from the dean's office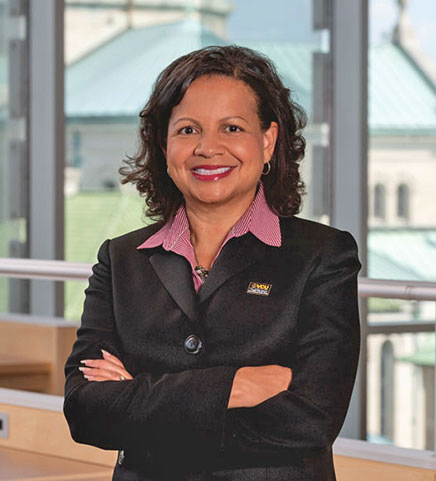 Dear Friends,
I'm proud to share with you the Fall 2022 edition of Wilder School in Action magazine.
The Wilder School continues to excel in academics, research and experiential learning opportunities to help transform our world.
This includes $3 million in funding we recently received from the commonwealth of Virginia to enhance the work of our Research Institute for Social Equity (RISE). As a hub to facilitate research to reverse social inequities, RISE is uniquely positioned as a national thought leader and research enterprise focused on equality for all Americans.
Led by inaugural director and Wilder School faculty member Nakeina Douglas-Glenn, RISE will further create new academic opportunities for historically underrepresented students, a lifelong commitment that the 66th Governor of Virginia, L. Douglas Wilder, shares within these pages.
This year, I've also had the honor and privilege to serve as the president of the Network of Schools of Public Policy, Affairs, and Administration (NASPAA), which is the world's preeminent organization dedicated to public policy and public affairs education and includes 327 institutional members and universities across the globe.
After a two-year in-person hiatus, the NASPAA annual conference returns in Chicago, Illinois, this fall. Themed "The Time is Now: A Bold and Noble Public Service for All," I'm grateful to lead the efforts of so many talented educators and organizations dedicated to advocating for the vital role of public service education in policy and political spheres. We do this work to improve society as a whole and because we have a responsibility to do our part.
Evidence of the Wilder School's distinctive reputation grows each year. The Wilder School continues to be the top public affairs graduate school in Virginia and is now ranked 35th in the nation according to U.S. News & World Report. We are also recognized nationally as 29th in public management and leadership. These distinctions mark the school's highest rankings yet and place it within the nation's top 15% of schools.
We continue to innovate our program offerings to meet students' ever-evolving needs and schedules, like our award-winning Master of Public Administration program, which can now be completed entirely online, in addition to the traditional in-person format.
So many avenues of transformational change advance the collective work underway at the Wilder School. Never before have we been better equipped to make societal impacts. It's an amazing journey and I invite you to join us.
Best regards,
Susan T. Gooden, Ph.D.
Dean
L. Douglas Wilder School of Government and Public Affairs
Virginia Commonwealth University
Fall 2022 / In this issue