Nationally ranked M.P.A. program can now be completed fully online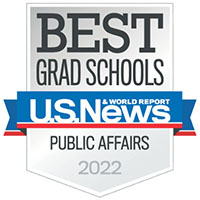 The Wilder School Master of Public Administration (M.P.A.) program, winner of the 2016 Social Equity Award by the Network of Schools of Public Policy, Affairs, and Administration (NASPAA), can now be obtained entirely online starting in the fall of 2022. The nationally ranked M.P.A. program has a rich history as the first accredited M.P.A. program in Virginia.
Wilder School students can now choose to attend the traditional in-person program or participate in the new online program. "After receiving feedback from many groups, we're excited to add an online option to meet the evolving needs of our students," said Susan Gooden, dean of the Wilder School. "Creating greater flexibility with the M.P.A. program allows us to expand opportunities to students both locally and around the globe."
VCU's instructional base, which is located in the heart of historic Richmond, the state's capital, and its close proximity to Washington, D.C., provide an immersive, hands-on opportunity for students to learn from instructors with significant expertise and experience. The Wilder School cadre of faculty are dedicated to preparing creative, principled leaders who understand the demands placed upon local, national and global public and nonprofit institutions.
The M.P.A. program is ideal for both emerging professionals entering the field of public administration as well as experienced public servants seeking formal leadership training. The program enables students to develop solutions to complex social problems while advancing collaborative, equitable and ethical democratic governance.
The introduction of this program seeks to address a major barrier to equity in public service education. Virginia is home to approximately 180,000 state and local government employees and approximately 150,000 federal employees. The online M.P.A. program will help eliminate geographic and scheduling obstacles while providing the same student-centered, interactive and engaging higher education learning environment.
Applications for the fall 2022 online M.P.A. program are now being accepted. The priority deadline for fall 2022 is April 1 with a final deadline of May 1.
Learn more and apply today at: https://wilder.vcu.edu/programs/public-administration/
For more information, please contact Ross Losapio at wsrecruit@vcu.edu.
---
Spring 2022 / In this issue