Bold and noble: Susan Gooden leads NASPAA to new heights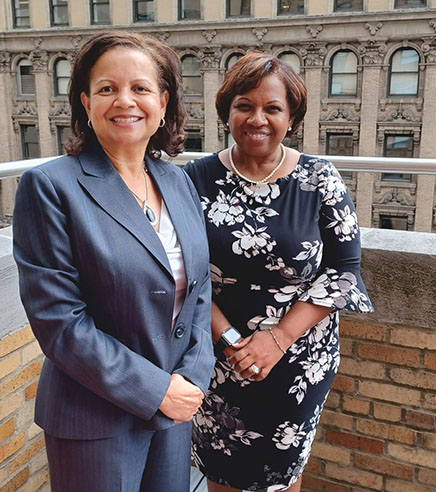 Dean Susan Gooden is the president of the Network of Schools of Public Policy, Affairs, and Administration (NASPAA), the world's largest accrediting body for public affairs programs. With 327 institutional members across the globe, the network advances public service through education advocacy in the policy and political spheres. We sat down with Dean Gooden to talk about NASPAA and its 2022 conference to be held Oct. 18-23 in Chicago.
---
Q. What can you tell us about the changes underway at NASPAA during the past year and how they align to support the future of public affairs education?
A. It's been a momentous year for NASPAA, which welcomed a new executive director, Dr. Angel Wright-Lanier, in September of 2021. Dr. Wright-Lanier is a pleasure to work with and brings a wealth of leadership experience in local government to our efforts.
One of the things that she immediately brought to the board was the need to update NASPAA's strategic plan. This work is now underway with multiple focus groups capturing perspectives of key constituents. Their informative input will bring critical voices in developing NASPAA's strategic plan.
NASPAA also began implementation of a comprehensive diversity, equity and inclusion initiative framework and action plan this year. Initiated prior to my presidential term by colleagues Drs. Laura Bloomberg and Brandi Blessett, the new framework informs our strategic plan and emphasizes action areas that we'll be highlighting for member schools throughout our annual conference. Our focus this year has been action-oriented in aggressively implementing the diversity, equity and inclusion framework that was adopted last year.

Q. NASPAA will resume an in-person format in Chicago this year after nearly two years of virtual programming. What can you tell us about the theme of this year's conference, which you selected, and what that means practically for the agenda?
A. The theme for this year's conference is "The Time is Now: A Bold and Noble Public Service for All." It's a charge that evokes a broad agenda squarely on confronting big problems in a brave, creative and innovative fashion. I also wanted to underscore the idea that public service is an inherently noble and impactful work. Whether we're talking about education, housing, crime, immigration or water safety, there is a public administrator working diligently to have those services delivered to citizens in an equitable, effective and efficient manner.
We received more than 150 proposals from 500 unique presenters for the 2022 conference — a record-breaking number of entries. That's a strong indication of the excitement and enthusiasm that exists among our participants to network and compare approaches to pedagogy.
I also want to acknowledge the outstanding work of my conference programming co-chairs, Drs. Brandi Blessett and Sean McCandless, and all of the members of this year's conference committee who had the very challenging work of selecting panels from an inordinately high volume of submissions. Special thanks are also due to our local hosts: the University of Illinois Chicago, Northern Illinois University and the University of Illinois Springfield.

Q. Are there specific aspects of the programming that you want to highlight?
A. There are two. The first is our "Institutionalizing Equity and Justice" track, which ties back to implementing the action agenda related to the DEI framework that the task force put together. From our keynote speakers to our conference sessions, attendees will notice broad inclusion and focus on HBCUs and MSIs. The second is a brand-new track, "Uplifting the Infrastructure of Our Programs."
For many years, NASPAA did an excellent job of attracting deans, administrators, faculty and students who are on the job market to the annual conference. Where we were less effective, however, was in attracting our infrastructure support — student services, communications, development and finance professionals, for example. All of these functions are critical in delivering a high-quality public service education. This year, we intentionally reached out to them and encouraged submission of conference proposals.
I'm delighted that we have been very intentional in trying to broaden our outreach. With this new focus, we're going to be engaging all of the support systems who are integral to our success. Our DEI and infrastructure groups will be able to exchange ideas about best practices while extending their network specifically within public affairs schools.

Q. NASPAA lost a global ambassador for the network in March, Dr. Nadia Rubaii. What can you tell us about the legacy of Dr. Rubaii and how she will be commemorated at the conference?
A. We all were deeply saddened by the sudden loss of Dr. Rubaii. Besides having served as a NASPAA past-president and accreditation chair, Nadia was a tremendous colleague who made transformative contributions to the international public service community. We at NASPAA have really taken her death as a challenge to continue the legacy of her work.
To that end, I'm very pleased to announce the establishment of the Nadia Rubaii Distinguished Service Award, which will recognize members who have made outstanding contributions and exhibited leadership to NASPAA and the field through service that spans years and committees.
We'll also present sessions during the 2022 conference that will be specifically devoted to honoring and reflecting upon the legacy of Dr. Rubaii.
Welcoming new Wilder School faculty
We are proud to introduce the newest faculty members of the Wilder School family:
RaJade Berry-James, Ph.D., senior associate dean of faculty and academic affairs
Robert "Brad" Lehmann, Ph.D., instructor, criminal justice
Anthony Starke, Ph.D., assistant professor of public administration
Fall 2022 / In this issue