Letter from the dean's office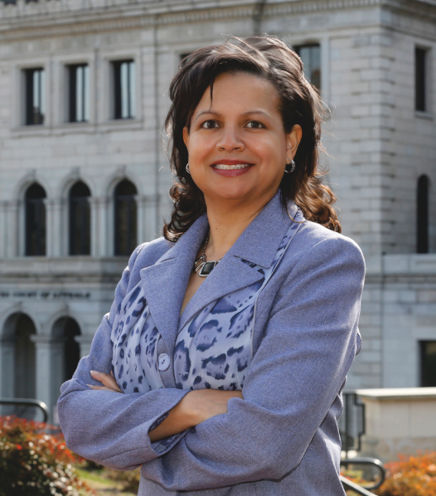 Dear friends,
As the cover of this magazine depicts, the issues we face today are prodigious. The Wilder School is fiercely committed to be a part of the solution, and within these pages you'll learn about the remarkable efforts of our alumni, faculty and students.
In this year of innumerable challenges, we are proud to be a leader in the national conversation about the 2020 presidential election. Our Commonwealth Poll's selection as a CNN-approved poll is based on a rigorous review process to ensure that polling entities are employing the gold standard in their public opinion research. Read more in the article about our CNN partnership.
The Wilder School embraces the values of leadership and service embodied by L. Douglas Wilder, the nation's first elected African American governor who served in Virginia's highest office from 1990-94. As a distinguished professor, Governor Wilder brings his vast experience to the school that bears his name. A compelling interview with the governor, who turns 90 years old in January 2021, is found in the article, "Governor Wilder on racial reconciliation". We were proud to commemorate the 30th anniversary of his inauguration this fall with a full-day leadership symposium co-hosted with Virginia Union University. You can search "Governor Wilder 30" on YouTube for recordings of the event and SoundCloud for our podcast series "Conversations with Governor Wilder." Look for more on our celebrations in the spring edition of this magazine.
As the United States continues to deal with two epidemics — COVID-19 and racism — and their blatant intersection, our approach at the Wilder School is one of serious resolve. Nationally recognized for our commitment to social equity in our teaching, research and service, we are not bystanders to social injustice. Our faculty's research and expertise are providing transformative analysis on critical topics including criminal justice, minority businesses, health care and eviction. Within these pages, you'll read about our cutting-edge solutions to our country's epidemics, including Dr. Salta Liebert's research on immigration, and alumnus Curtis Brown's work as state coordinator of the Virginia Department of Emergency Management.
What's more, our location in the state capital offers many opportunities for our students, faculty and alumni to take their classroom knowledge and put it into action. VCU's campus was in the middle of many of the spring and summer demonstrations for social justice. As our cover photos illustrate, our country continues to have many challenges ahead that the Wilder School will face head on.
Meanwhile, our academic programs, our faculty and the work of our Center for Public Policy continue their rise in national prominence. The 2020 U.S. News & World Report rankings confirmed the Wilder School is among the nation's top 20% of graduate schools of public affairs, placing us at No. 39 in public management and leadership. This marks the first time the Wilder School has ranked in one of the specialty areas. I'm so proud of this achievement and all who contribute, every day, to our success.
Following a national search, I was honored to be named dean of the Wilder School in May. In these extraordinary times, I'm excited to work with such talented faculty, staff, students and alumni as we prepare the next generation of public servants. There's much to be done and not a moment to waste. Let's get to it!
Best regards,
Susan T. Gooden, Ph.D.
Dean
L. Douglas Wilder School of Government and Public Affairs
Virginia Commonwealth University


---
Fall 2020 / In this issue