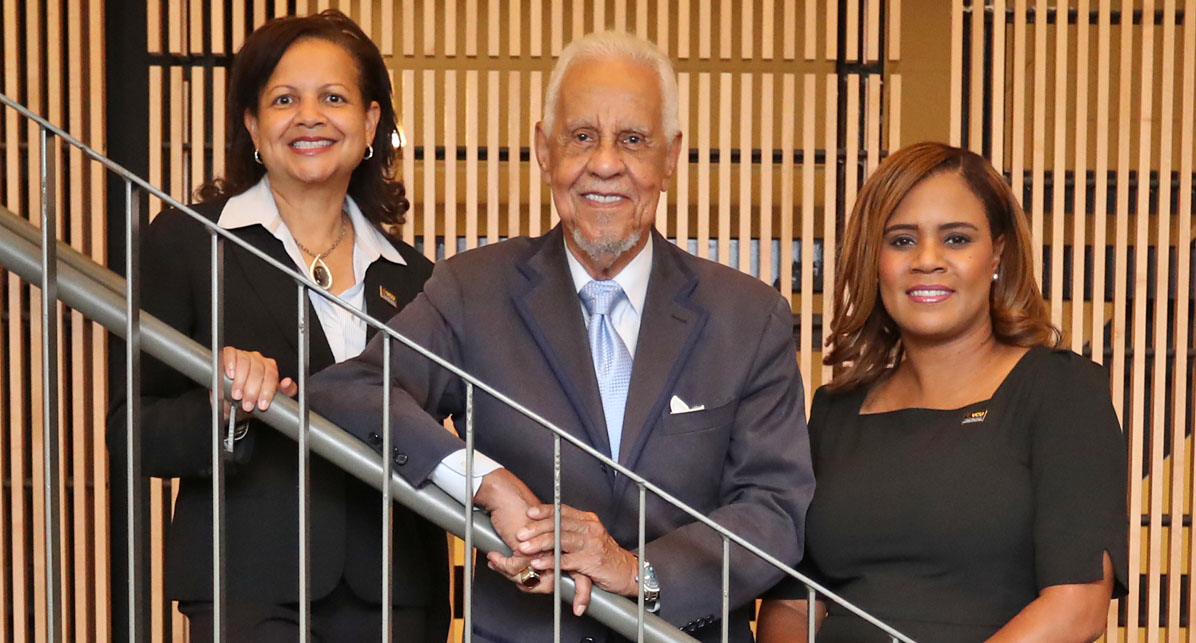 From left: Dean Susan Gooden, Gov. L. Douglas Wilder and Nakeina Douglas-Glenn view the work of the Research Institute for Social Equity as key to increasing collaborations and sharing the longstanding efforts of the Wilder School in the realm of equity research.

On the RISE
Transforming research for all with the Research Institute for Social Equity
The Research Institute for Social Equity (RISE) has received $3 million from the commonwealth to expand racial and social equity research, academic scholarship and public engagement.
"VCU's role as a public research university means we take the lead in asking difficult questions and finding answers about the most pressing issues facing our society," said Michael Rao, president of VCU and VCU Health System.
"The RISE program's research and engagement work furthers a deeper understanding of social inequities and their impacts and identifies paths to greater social equity. We are grateful to the legislature and the governor for state budget funding that will help expand that vital work, and it was my privilege to advocate for RISE as one of our top five priorities this legislative session."
The two-year funding enables the Research Institute for Social Equity to expand its research across many policy issues affecting social justice reform across the United States to promote education, economic security and development on behalf of all Americans.
"Funding for the Research Institute for Social Equity is appreciated, welcome and needed," said Gov. L. Douglas Wilder. "America is in the throes of social upheaval, with problems emanating from times of disunity and social inequality involving race, status and education. No place is more suited
to address these issues than the Wilder School of Government and Public Affairs."
Funding will support key research areas in Virginia public policy analysis and reporting, public outreach and workforce development, and educational resources to further position VCU as a champion voice for transformation.
"For decades, our researchers have worked to develop policy solutions to address fundamental issues of equity and access for underrepresented populations," said Susan Gooden, dean of the Wilder School. "This funding amplifies our focused efforts at the Research Institute for Social Equity as a national thought leader on social justice and racial equity."
Leading the way for marginalized voices
The goal of the Research Institute for Social Equity is to become the national leader in advancing and informing public policy, governance and practice to improve conditions for marginalized voices within society, including communities of color, LGBTQIA individuals, people with disabilities, incarcerated populations, survivors of domestic violence and women.
It's a call to action that the Wilder School and VCU are uniquely positioned to answer, as a top-tier research university located in the heart of Richmond and blocks away from the seat of government at Virginia's State Capitol.
To set benchmarks for improvement and evaluation, the Research Institute for Social Equity will compile a biannual report card of national progress toward social equity and develop criteria for progress by producing case studies to inform and engage practitioners on emerging trends.
These educational tools will demonstrate real-world perspectives and approaches to improve understanding and awareness.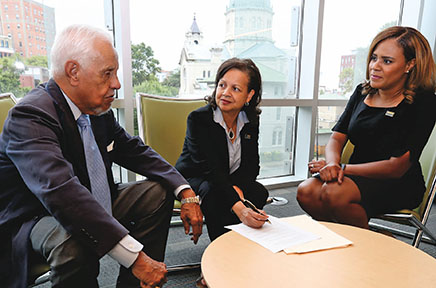 Connecting communities and facilitating change
Formed in 2019 as a hub for social justice initiatives, the Research Institute for Social Equity was developed to connect community groups, provide advocacy resources and establish professional development experiences to educate and prepare leaders to confront issues of racial justice. In addition to these statewide programs, the Research Institute for Social Equity serves as a conduit for networking by hosting an annual conference to assist thought leaders in understanding the role of social equity research advocacy across their organizations.
"One of the most significant ways to realize social equity in our communities is through essential training for Virginia's leaders," said Gooden. "RISE
is a beacon of what transformative outreach holds for our future. The Wilder School's mission to educate extends well beyond the boundaries of our campus, and this funding will significantly amplify our reach."
Focused on transformative impacts
Measuring outcomes and providing advocates with data-driven analysis and tools is essential to success. To better understand public perceptions on social equity, the Research Institute for Social Equity, in conjunction with members of the Virginia General Assembly, will conduct three annual public policy polls in areas like public safety, economic development, education, mental health and housing.
The poll results will help provide policymakers and advocacy groups with data to better understand their constituencies through specific racial, socioeconomic and regional demographics.
All of these resources will be publicly shared and available to connect like minds and build an informed and active community.
The Wilder School holds a longstanding dedication to academic rigor, research excellence and public service, and the expanding efforts of the Research Institute for Social Equity will further connect communities and create resources to advance thought leadership and effect measurable, large-scale change.
Meet Nakeina Douglas-Glenn, director of RISE
Nakeina E. Douglas-Glenn, Ph.D, who has served as the interim director of RISE since its founding, has been selected as the permanent director. In her role, she oversees and supports key research areas in Virginia public policy analysis and reporting, public outreach and workforce development, and educational resources to further position VCU as a champion voice for transformation.
Douglas-Glenn's recent work includes leading a team of researchers to produce the Ensuring Language Equity in Virginia Government Services report and serving as an editor of the Virginia Department of Health's Vaccine Equity Report, which the Wilder School produced monthly during 2021 under the supervision of the Commonwealth of Virginia's Chief Diversity, Equity, and Inclusion Officer and the Equity Leadership Task Force. She previously served as the director of The Grace E. Harris Leadership Institute.
Active in community and professional organizations, Douglas-Glenn is an elected member of the American Council on Education's Virginia Network executive board. She is also a member of the board of directors for the Health Brigade Charitable Clinic (formerly the Fan Free Clinic) and SOAR365, which supports individuals and families with the real-world challenges of living with a disability.
"I am thrilled to have the opportunity to lead the Institute in this era-defining moment," said Douglas-Glenn. "I believe RISE is positioned to advance its vision through transformational research and a timely suite of services to help decision-makers and public service providers do their best work to increase access, opportunity and equity for all members of our communities."
Creating opportunities with Virginia Union University
66th Governor of Virginia L. Douglas Wilder, the namesake of the Wilder School and the nation's first elected African American governor, continues to inspire others through his legacy of public service and commitment to education.
In partnership with Virginia Union University, the Wilder School is establishing needs-based undergraduate and graduate scholarships for students to follow in Governor Wilder's footsteps as public servants. These scholarships will support research and community engagement to develop students' academic and leadership experiences.
The Research Institute for Social Equity will also digitize Governor Wilder's extensive document library, which includes key print documents and multimedia from the Wilder gubernatorial administration. The digitalization of these documents will expand students' research access to the historical record that defined Governor Wilder's unprecedented tenure.
"I am proud that support for the Research Institute for Social Equity will create new opportunities to enhance our students' path to academic success," said Governor Wilder. "The digitization of the Wilder Collection represents an unrivaled effort to preserve history. It will provide new opportunities for faculty and students alike — to not only analyze, critique, and question but most importantly, to learn."
Fall 2022 / In this issue