Alumni spotlight: LeQuan Hylton, Ph.D. '16
Increasing access to low-income housing through sustainable real estate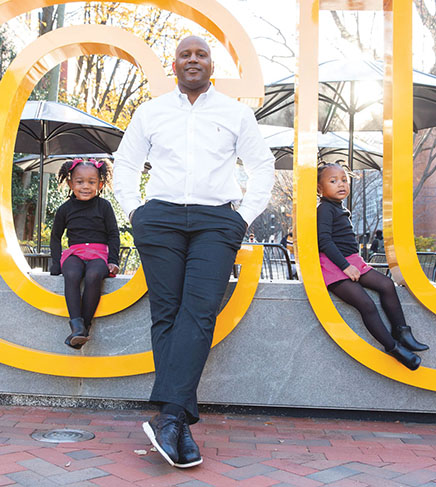 "I have never told my children to choose a career path," said LeQuan Hylton (Ph.D.'16/PPA). "My daughter wants to be a police officer, a witch, a teacher and an architect, and I tell her every day that she can be all four."
Hylton, a proud husband and father of two, knows a thing or two about the benefits of a career that defies conformity. He is an activist, a real-estate developer and a highly skilled reservist who has managed success at each of these pursuits simultaneously.
At 40, he is the co-founder, president and principal broker of Hylton & Company Property Management, a thriving family operation that offers high-quality affordable housing for the working poor. Hylton runs the company alongside his wife, Nelda, and mother, Sharon.
In an industry seemingly obsessed with meeting the needs of those in high and middle incomes, Hylton has amassed a real estate portfolio of nearly 300 properties, including single-family homes, multifamily homes and commercial developments, focused on the other end of the economic strata.
During the pandemic, Hylton & Co. doubled down on this commitment, converting housing units for the homeless and those at risk of homelessness through its participation in the HOME Investment Partnerships Program, a federal grant program aimed at low-income housing.


Pluck and fortitude
That Hylton has built this particular enterprise while maintaining superlative tenant ratings has made the Martinsville, Virginia, native something of an exemplar in the community. His success, humility and family first persona earned him several glowing profiles, including a 10 Under 10 distinction from Virginia Commonwealth University. But it is more than just the breadth of his success that has helped him garner attention.
Hylton has a certain pluck that is contagious. Take, for example, the time he was almost rejected from admission to Virginia State University.
"You may not realize this," a 17-year-old Hylton said on a call to a baffled admissions officer, "but I am exactly the type of student Virginia State was built to serve."
Hylton charmed the caller into a campus invitation, setting off a chain of academic achievement that would ultimately lead to a degree in business management from VSU, an M.B.A. from Averett University and a doctorate in public policy and administration from the VCU Wilder School.
Hylton brings that same fortitude to his work in affordable housing. He delights in rehabilitating formerly blighted properties and incorporates unexpected finishes in his rentals, such as walnut flooring and granite countertops.
"I build homes that are worthy of the families that will occupy them," he said. "That's what it's all about. Our relationship with our tenants is the same as our relationship with our contractors and the same with our investors. We're all part of an ecosystem that requires that we invest our best."

Building opportunities for others
Homeownership, financial literacy and access to capital, particularly within low-income and minority communities, are subjects about which Hylton is passionate.
He said those factors can act as "a fast pass" in realizing the potential of others like himself.
Like the properties he constructs, Hylton sees affordable housing as a market rife with opportunities for those with the vision and drive to pursue them.
"There is both social and economic value in providing quality affordable housing to those who need it. That's my ministry," he said.
Spring 2022 / In this issue