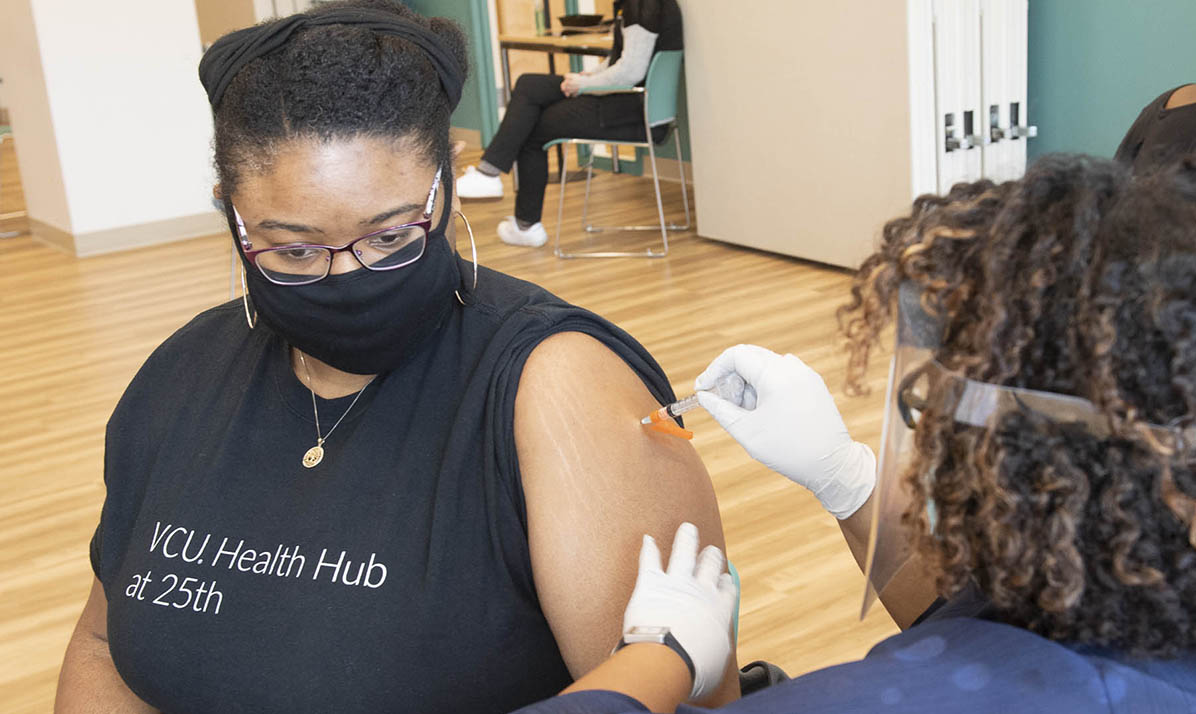 The VCU Health Hub at 25th continues its mission to bring down barriers for vaccine access in the East End of Richmond.

Their best shot
Health Equity Working Group helps all Virginians attain equitable COVID-19 relief
As the COVID-19 vaccines became available to the public in early 2021, Virginia established the Health Equity Working Group to monitor their distribution and the impact of the pandemic on vulnerable populations in the commonwealth. The Health Equity Working Group is an innovative coalition of senior-level leaders responding to the COVID-19 public health crisis, and working to apply a health equity lens to Virginia's response to the pandemic. Headed by Janice Underwood, Ph.D., the nation's first cabinet-level chief diversity officer, the group turned to the Wilder School's Research Institute for Social Equity, known as RISE, to conduct research and make recommendations to ensure equitable vaccine distribution, overcome vaccine hesitancy and measure the economic impact of the pandemic on Virginians.
"The Virginia COVID-19 Equity Leadership Team has worked to thread equity throughout the state's COVID response, and our collaboration with the VCU RISE team has helped to further inform our work, particularly as we turned our attention to equitable vaccine distribution and community engagement," Underwood said.
RISE is addressing the disparity between those who receive the COVID-19 vaccine and those who need it most. It is
providing the Virginia Department of Emergency Management (VDEM) with research on equitable vaccine allocation policies and strategies and helped design a community-based vaccination program with a focus on equity.
"We are helping the Virginia Department of Emergency Management and the state leadership at large in thinking through the question: What does vaccination equity mean for the commonwealth of Virginia?" said Dean Susan Gooden. Gooden, a top scholar in equity and policy, is leading the project alongside Nakeina E. Douglas-Glenn, Ph.D., interim director of RISE and director of the Grace E. Harris Leadership Institute.
Curtis Brown, state coordinator of emergency management at the VDEM, said RISE has been "instrumental in conducting research and building community connections to help us center our vaccine allocation strategies on equity."
"The COVID-19 pandemic has disproportionately impacted Black and brown communities, and it's imperative that we equitably distribute vaccines to these communities," said Brown, who earned his certificate and master's degree in homeland security and emergency preparedness at the Wilder School.
"The research and community-vaccination plans the VCU team has developed helped us expand our community outreach and engagement," Brown said. "RISE contributions have been invaluable throughout this process and support our efforts to equitably respond to this [crisis]."
Likelihood of vaccination (of those who are unvaccinated)
Hispanic - 69% | Black - 41% | White - 23%
VDEM vaccine hesitancy and mental health poll, July 2021, conducted by the Wilder School of Government and Public Affairs.
RISE developed plans to build capacity and for standing up community vaccination sites as well as recommended an approach to vaccine allocation that aligns rates of vaccination with relative rates of infection.
"We have received some really excellent work by Dr. Gooden and Dr. Douglas-Glenn, looking at strategies for improving that equitable vaccination of our population," said State Health Commissioner M. Norman Oliver, M.D. "And using that strategy, we employed a consulting and contracting team to work with local health departments, leaders of local jurisdictions, community-based organizations, faith leaders and others to do the work that is necessary to reach out to Black and brown people in the commonwealth and draw them into our vaccination effort."
"What we're trying to do is to pull equity all the way through and follow the data when developing vaccination strategies," Gooden said. "We are working toward achieving a relative rate of vaccination that's aligned with our relative rate of infection and death; that's a more equitable approach and it's similar to the approach that was taken with those who live in long-term care facilities and the elderly," she said.
During the early summer months, as the vaccines became widely available, the Wilder School's work also included a series of polls and focus groups to learn more about the reasons behind vaccine hesitancy and to develop strategies to help the state reach those who aren't yet vaccinated. RISE conducted several statewide polls for VDEM, looking at the reasons why some choose not to get vaccinated. In July, the Centers for Disease Control and Prevention declared COVID "a pandemic of the unvaccinated," making RISE's work on hesitancy that much more critical.
"We are finding that there are very different reasons for vaccine hesitancy," Gooden said. "The reasons why rural individuals might not want to take the vaccine is different than why Latinos might not want to take the vaccine. What we have uncovered is helping the state align its strategy by having a deeper understanding of vaccine hesitancy and how we can overcome that."
Douglas-Glenn noted that Brown wanted to add racial equity as a significant dimension to the task force's work. "Sometimes when [people] talk about equity, it's not necessarily solution driven. It's really focused on equity as a problem. RISE is helping to center equity in our policy conversations and in our community conversations, as opposed to making it one-off or a secondhand component of those experiences. It's helping to center equity in these conversations and really moving toward solutions."
Gooden said RISE's work is part of the legacy of the Wilder School's namesake. "Governor Wilder's legacy permeates the Wilder School and our approach and our prioritization and focus on equity."
RISE was formally created in 2020 Gooden noted, but the Wilder School has long had faculty members recognized in terms of their social equity prominence and expertise.
"To have a state agency look to us to assist in one of the most challenging projects and challenging set of problems the nation, and indeed the world, has faced, speaks volumes for the trust that we have built with them and for the shared commitment to really rolling up our sleeves and doing the work that needs to be done for all Virginians," Gooden said.
---
Fall 2021 / In this issue