Why I give to the Wilder School
Larry Bowman creates opportunities for criminal justice students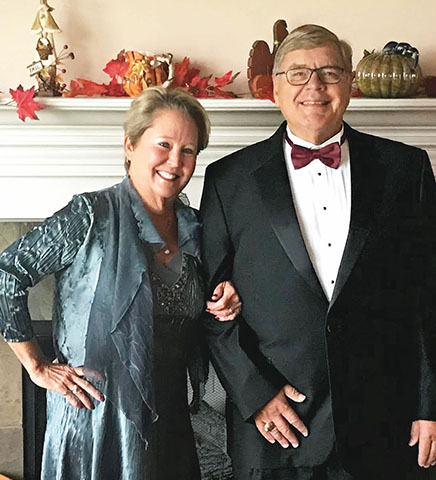 For Larry Bowman (B.S.'73/GPA; M.S.'82/GPA), advancing the field of criminal justice begins with investments in talented students and transformative ideas. This is the inspiration behind the Lindsey and Larry Bowman Scholarship in Criminal Justice and Innovation in Criminal Justice Fund.
The initiatives work to expand opportunities at the Wilder School and beyond. The scholarship provides financial assistance to undergraduate students in criminal justice, especially those who are first-generation, demonstrate financial need or are pursuing careers in law enforcement.
The Bowman fund promotes community-engaged projects such as internships, courses, research, lecture series and more.
Most recently, the fund has fueled real-world research at the Chesterfield County Jail. Graduate teaching assistant Samantha Wright ('22 M.S.) has teamed up with Amy Cook, Ph.D., and Nancy Morris, Ph.D., associate professors of criminal justice, to examine drug addiction, overdose and recovery.
"The primary goal of our research study is to prevent drug overdose among formerly incarcerated people," said Wright, who also holds a Post-baccalaureate Graduate Certificate in Public Management from the Wilder School. "The opportunity to work with Dr. Cook and Dr. Morris on this research project truly enhanced my education and cultivated my interest in research. I believe this research has the power to transform people's lives, which is so exciting and meaningful. This experience challenged me to step outside my comfort zone and build upon the knowledge and skills I've learned in the classroom. I have developed a passion for helping people struggling with addiction, and I hope to continue this work in my future career."
These life-changing learning experiences define Bowman's contributions to the Wilder School. Originally from the Richmond area, Bowman earned an undergraduate degree in administration of justice and public safety at VCU while serving as a campus police officer. While completing his graduate degree in the same program, Bowman served with the Virginia State Police and the Virginia Alcohol Safety Action Program. These formative years established his strong personal connection to his alma mater and field of study.
Bowman and his wife, Lindsey, understand the financial barriers that can keep higher education out of reach.
Today, Bowman is the founder, president and CEO of Management Solutions of Virginia, which specializes in quality improvement initiatives and laboratory information management solutions. "Our alma maters were of great benefit to us both professionally and personally. We want to help others who are creating their own personal journeys but need financial assistance to help them achieve their goals," he said.
Bowman is a passionate advocate for progress, and preparing students for dynamic careers is a key motivator for his generosity. Together with the Wilder School, Bowman is ringing in the future of criminal justice leadership.
Fall 2022 / In this issue