Positioned to Respond
Faculty expertise, research and applied scholarship help the Wilder School address dual pandemics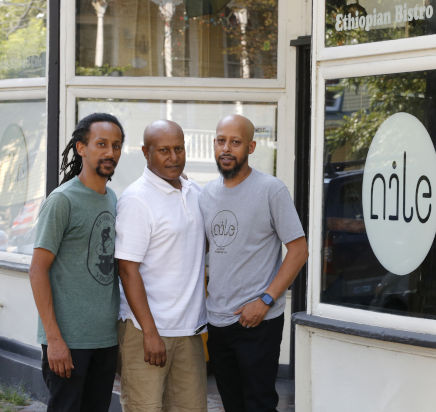 When the COVID-19 pandemic hit Richmond in March, Nile, an area restaurant owned by twin brothers Yoseph and Benyam Teklemariam, was forced to shut down. The twins, along with their brother Nathan and other siblings, moved from Ethiopia to New York as children, and much of the family has now settled in Richmond, Virginia. Yoseph and Benyam have run the successful restaurant and catering business for more than 10 years. Nathan is a Ph.D. student in the Wilder School, working on his dissertation examining housing issues in his native Ethiopia.
Although Nile restaurant has a small staff, the brothers applied for help under the federal government's Paycheck Protection Program (PPP). After many hurdles, Nile eventually received a PPP loan, and the restaurant reopened with takeout and curb-side pickup service.
Because of the challenges Nathan saw his brothers have in securing a loan and obtaining help — two things he noticed in other immigrant-owned restaurants, too — he was inspired to join a research project and write a forthcoming journal article.
"There is a long history of the disproportionate impact that disasters have on minority communities and how they are often left behind by federal programs," Teklemariam said. "The hurdles are much harder for people of color, and even much harder for immigrant-owned businesses." This summer Teklemariam was asked to join Wilder School professor Elsie Harper-Anderson, Ph.D., in her research studying the impact of the coronavirus on Black workers and businesses. Harper-Anderson's research, "An Analysis of the Economic Impact of COVID-19 and the CARES Act on African-American Workers and Businesses in Virginia," received a $10,000 grant from the VCU COVID-19 Rapid Research Funding Opportunity. Her work is looking at the pandemic's impact on African American workers, businesses and communities.
"Historically, legislation designed to jumpstart economic recovery has not benefited African Americans as much as their white counterparts," said Harper-Anderson. "It is critical to examine the CARES Act to understand whether there are biases and inequality built into the policymaking process at the federal level, and how implementation here in Virginia may be further exacerbating the inequities." For Teklemariam, the opportunity to work with Harper-Anderson has been helpful in also finding links between the two researchers' projects. "There are a lot of historical examples of minorities being left behind in times of disaster," Teklemariam noted. "I want to figure out why this keeps happening and what we are doing wrong."
Taking a leadership role
The Wilder School is working diligently to answer Teklemariam's questions and to ask "how can we be part of the solution?". With the dual pandemics of COVID-19 and racism, 2020 has become a momentous year for our country. As a top graduate school of public affairs, the Wilder School is taking a leadership role in addressing these two pandemics. The Wilder School embraces the values of service embodied by its namesake,
L. Douglas Wilder, the nation's first elected African American governor who served in Virginia's highest office from 1990-94 and who continues to be engaged in the national conversation about the pandemics and solutions to move the country forward.
Recognized in the 2020 rankings for the first time as a top 40 school of public affairs in the specialty area of public management and leadership, the Wilder School finds itself in a unique position to respond to these unprecedented times, with a broad range of faculty expertise, research and applied scholarship, and a robust Center for Public Policy. The Wilder School's location in Virginia's capital and proximity to Capitol Hill have never been more important.
Under the leadership of Dean Susan Gooden, Ph.D., the Wilder School is examining these dual pandemics in the classroom, sharing its expertise with the public and policymakers, and expanding its nationally acclaimed research on social justice. We have seen a tremendous increase in our graduate enrollment in fall 2020, worked diligently over the summer months to expand our curriculum to be more inclusive and address the pandemics, and looked inward to examine our own shortcomings and produce the Wilder School Racial Equity Action Plan.
Dramatic increase in graduate students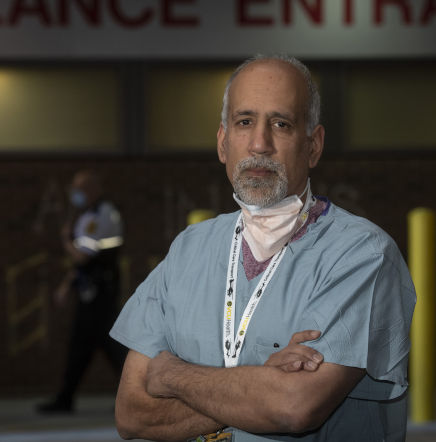 Despite the challenges of COVID-19, the Wilder School saw a 62% enrollment increase in its graduate programs for fall 2020. "As the Wilder School continues to raise its national profile through research, applied scholarship and experiential learning, we are finding the number of students from across the country who want to continue their education at VCU is increasing," noted Dean Susan Gooden. "We are proud to be in the forefront as we continue to retool our curriculum to keep it relevant and accessible by offering many of our graduate programs online or by following hybrid models." Whitney Brown, who received her undergraduate degree from Penn State, University Park, is currently pursuing her M.P.A. and certificates in public management and nonprofit management. "VCU has a remarkable program, including fellowship opportunities, that will help me grow professionally while benefiting from the financial assistance," Brown said. "The Wilder School program is strategically designed to fit the current and changing needs of society. VCU does this very well." Brown was selected for a fellowship at HDAdvisors this coming year. "I am excited by the opportunity to work side by side with a team of dedicated and enthusiastic individuals that seek to provide fair and affordable housing and community development services in the greater Richmond area," she said. "This fellowship gives me the opportunity to gain real experience and to become a more effective leader and public servant."
Embracing the reality of the pandemics in the classroom
When Sarah Raskin, Ph.D., wrote the syllabus for her spring 2020 public health emergency preparedness graduate class, the COVID-19 pandemic hadn't hit. But she quickly realized the crisis held many valuable learning opportunities for her students, who were physicians, active military, first responders and others. "Many students who were enrolled in the class were able to draw on their personal knowledge of dealing with a pandemic and responding in their respective fields," Raskin said. Among her students was the chief of emergency medicine at the VCU School of Medicine, Harinder Dhindsa, M.D. Dhindsa has been recognized for the implementation of a unique telehealth system that allows EMS agencies and VCU Health to rapidly make decisions about what is best for rural and underserved patients, while also lowering the chance of additional exposure to COVID-19.
This fall, Raskin is offering a special-topics course to examine the impacts of COVID-19 on public policy. "The course's main premise is the vastness and inequitable distribution of COVID-related suffering in the U.S. (health and otherwise) was avoidable, in large part through stronger public policies predating the pandemic," Raskin said. "Structural, systemic and institutional racism underlie and have been revealed through and deepened by the COVID-19 pandemic. Centering racial justice in a public policy approach is an ethical mandate and a strategy for successfully containing the pandemic." Wilder School alumna and new faculty member Lindsey Evans, Ph.D., is teaching a graduate-level course on social equity and public policy. This interdisciplinary survey course is designed to introduce graduate students to the concept of social equity and its relationship to public policy from theoretical and applied perspectives. "With a primary focus on racial inequities in the United States, we will examine both current and historical events in the context of social equity as the fourth pillar of public administration, along with economy, efficiency and effectiveness," Evans said.
Making recommendations
Dean Susan T. Gooden, Ph.D., developed a summer course in response to the COVID-19 pandemic's disproportionate impact on vulnerable populations in Virginia and across the United States. In collaboration with Virginia Gov. Ralph Northam's administration's via Virginia's inaugural chief diversity officer, the applied graduate-level course examined, contextualized and offered pragmatic policy recommendations to promote equity in the commonwealth of Virginia's response to COVID-19. After students learned the historical and social dimensions of structural inequities, they worked to develop specific recommendations that were presented to the Northam administration. Those recommendations included:
Funding mobile testing sites for underserved rural parts of the commonwealth
Increasing the number of non-violent, incarcerated individuals released; allowing them to access stimulus funds and continue support services
Installing external wireless access points on public buildings, primarily firehouses, throughout Virginia to provide consistent internet access while remaining socially distant
Working to create change
Faculty, staff and alumni joined Dean Susan Gooden throughout the summer months to develop an action plan outlining how the Wilder School can actively contribute to achieving a healthy society. Solutions-oriented committees met on the following topical areas: student support, teaching curriculum, research, community and alumni engagement, and policy and practices.
A final report was created in early August. Among the recommendations now being implemented:
Student support: Establish a racial-equity internship award; include racial- equity statement on all Wilder School syllabi

Faculty support: Assessment of all Wilder School classes and curricula to strengthen the incorporation of race and racism discussions and assignments, and development of stronger reading resources

Research: Expand the translational research fellows program to include racial equity and create a small-grant program for racial equity research

Community and alumni engagement: Assemble an online toolkit — with items such as writing a policy brief and working with lawmakers — to aid those working on social justice issues

Policy and practices: Eliminate the GRE and other standardized test requirements that can put minority students at a disadvantage, and strengthen our partnerships with two nearby HBCUs, Virginia Union University and Virginia State University
New Initiatives
Achieving social justice is one of the most vexing challenges facing our nation today. Even as America has become more racially and ethnically diverse, our nation has also become more polarized. Social justice fosters opportunities that make it possible for everyone, particularly communities of color, to fully prosper and participate in the American dream.
This fall the Research Institute for Social Equity (RISE) within the L. Douglas Wilder School of Government and Public Affairs at VCU is beginning its work to advance social justice through multidisciplinary scholarship, research, training and engagement. RISE was recently awarded the top prize of $10,000 from the VCU Foundation's Big Idea contest. The foundation noted that RISE was selected for its work to ensure democratic ideas can remain at the forefront in Virginia amidst COVID and other challenges and the applicability to address issues in today's society. RISE will assist government and organizations with deepening their understanding, perceptions and ideas as a guide to reframe conversations, public policies and practices around social equity.
'An important evolution'
In this time of dual pandemics, inspiration can come from many sources. As doctoral student Teklemariam has seen first-hand with both his research and his brothers' restaurant, public administrators must continue to work diligently to improve equity and inclusion and support it as one of their core pillars and principles. "I hope we all come out of this either as citizens, educators, policymakers or public administrators, and most of all, as humans with a new paradigm," Taklemariam wrote in the June 5 PA Times. The Wilder School is working diligently to help find that paradigm and to be a part of the solution.
Fall 2020 / In this issue