Alumnus spotlight: Anthony Starke
Teaching and scholarship focus on race, identity and equity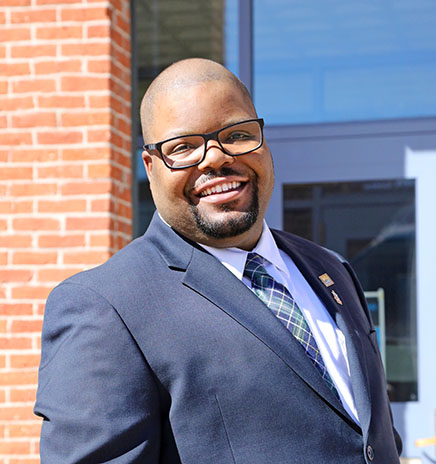 The University of Colorado, Denver, where Anthony Starke, Ph.D. (MPA '14), is an assistant professor, is a long way from his home state of Virginia. Despite the distance, Starke's work, research and motivations remain close to his Beaverdam roots and his Wilder School education.
As a child, Starke's family recognized and supported his intellectual curiosity. An aunt gave him the prophetic nickname of "professor," and he pursued myriad degrees satiating that curiosity. At Old Dominion University, Starke earned bachelor's degrees in clinical psychology and human services and began grappling with questions of social equity. Additionally, he spent his undergraduate years working for a nonprofit organization where he assisted youth and adolescents, and later held a position in the Norfolk Sheriff's Office supporting residents in the criminal justice system. Through his work, he saw people who were coping with challenging environments but often unable to achieve a better quality of life.
"After awhile, I began to get frustrated," said Starke. "I recognized the issue wasn't with my clients. It was the systems that were unresponsive. That's what led me to pursue an M.P.A."
The weekend Starke began his graduate program at the Wilder School was the same weekend he lost his grandfather, a towering figure in his upbringing. Starke moved back to Beaverdam to help his newly widowed grandmother, and together they shared grief and an education.
"I would arrive home late in the evenings, and my grandma — we would sit together while I told her what I learned in class, and she'd help me go over the concepts." Starke continued, "When I graduated, one of the things that we were able to do was to give a certificate to someone who came along with you. I cannot tell you how special it was to be able to turn to my grandmother, after a very difficult year, and say, 'this one's for you.'"

An impressive career of awards and honors

While at VCU, Starke was also a Wilder Graduate Scholars Fellow, a competitive experiential learning program that brought him in contact with the program's founder, Susan Gooden, Ph.D. Gooden met several times with Starke and convinced him that his academic inquiries were best suited for a doctoral program. That counsel gave him the confidence and encouragement to pursue a Ph.D. at the University of Nebraska. As a doctoral candidate, Starke focused on issues of social equity and social safety networks, work that culminated in his dissertation, "Policy Narratives and Policy Design: An Interpretivist Analysis of Bureaucrats' Narratives, U.S. Welfare Policy Reform, and the Social Construction of Welfare Recipients."
In his present-day classroom, Starke's pedagogy empowers his students to engage with systemic failings of marginalized populations. His long-standing focus on issues of race, democracy, identity and equity kept his courses primed for the COVID-19 pandemic and the renewed focus on policing in the wake of George Floyd's murder in 2020.
"I don't think that what's happening in the world has changed the way that I teach. I think the way that I teach is becoming more mainstream in PA (public administration)," he said.
Starke's impressive career is punctuated by awards and honors, including the Public Administration Theory Network Fellow Award, VCU's Black History in the Making Award and an Emerging Engaged Scholar Award. He is a member of the Public Administration Theory Network executive board and has published articles in journals including Administrative Theory & Praxis, Journal of Public Affairs Education, and State and Local Government Review on topics such as administrative racism and local government policy leadership and theory in contemporary public administration.

"I honestly believe that within the next 10 years, you will have someone [in public administration departments] with a critical studies background, someone who is able to bring in different theories and different ideologies…to really help students understand the broad dynamics of this world," Starke said. "I'm excited about being that person on my faculty."
---
Fall 2021 / In this issue