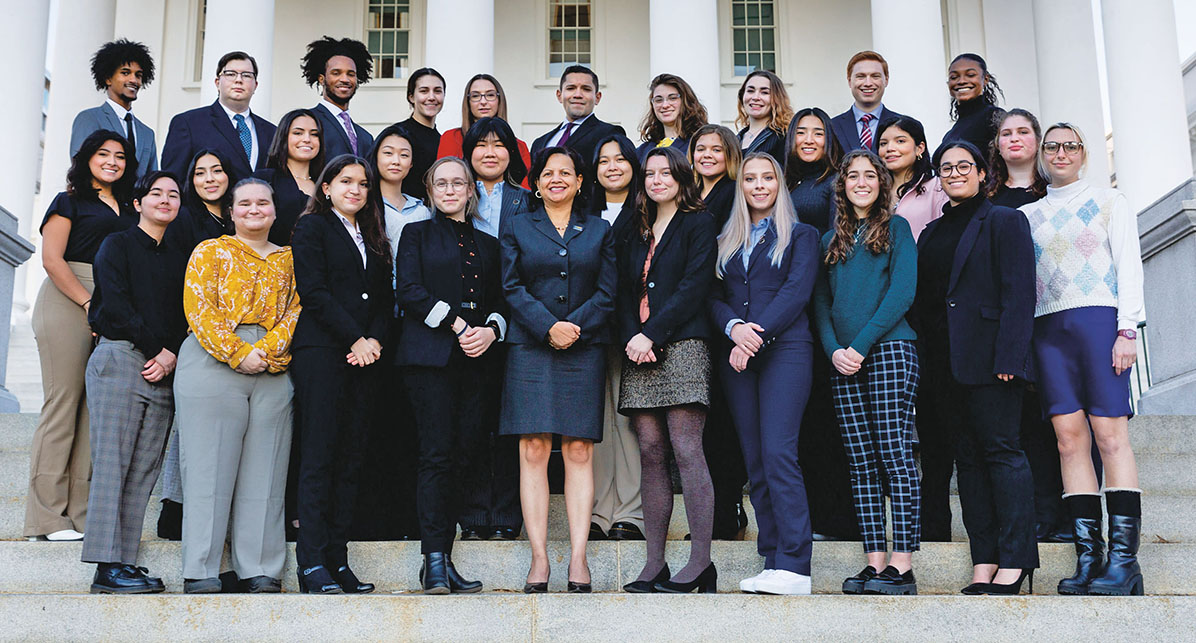 The 2022 Capitol Semester cohort poses with Wilder School Dean Susan Gooden on the steps of the Virginia Capitol building.

Capitol Semester
Students embrace the legislative process
Hands-on experiences for students are one of the regular benefits of the Wilder School's proximity to the capital seat of government for Virginia. The Capitol Semester program helps undergraduates gain a better understanding of the legislative process. From a two-pronged approach of classroom instruction and internship at the Capitol, students learn the realities of formulating public policy by working directly with Virginia Legislature members.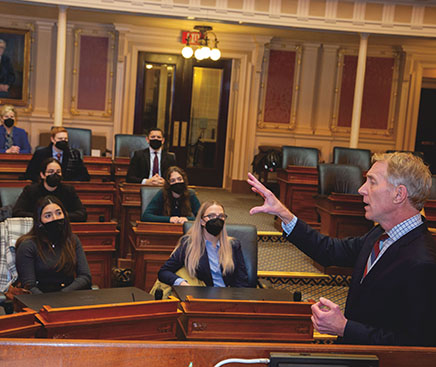 "Students' experiences range from answering phones, helping handle the huge volume of constituent email that comes in, tracking legislation and attending committee meetings to observe and report," said Paula Otto, instructor of the course and senior director of special projects at the Wilder School. Since 2006, VCU students have been interning and learning at the General Assembly through the Virginia Capitol Semester.
Otto, who has taught the course for four years, instructs students concurrently as they participate in the internship, which ranges from 15-20 hours per week. She reinforces understanding of the workings of the General Assembly, including budgeting, member and committee roles, and the legislative process for bills. The guest speakers she has invited have included chiefs of staff, lobbyists, budget planners, both freshmen and senior members of the Legislature, and Gov. Wilder. Students also take a field trip to the Capitol to meet with House and Senate clerks.
As a final project, students present and defend a bill to their classmates' subcommittees to see if it can survive the actual process. By this point, they've spent a considerable amount of the semester participating in the internship and are prepared to put their experiences to the test.
"I try to make certain that guest speakers expose students to varying points of view," said Otto. "So, I invite members from both sides of the aisle, including folks who might have a different perspective than a younger person. Letting the students see how civil disagreement and discourse work plays an important part of the classroom experience." Otto has consistently received positive feedback from her students.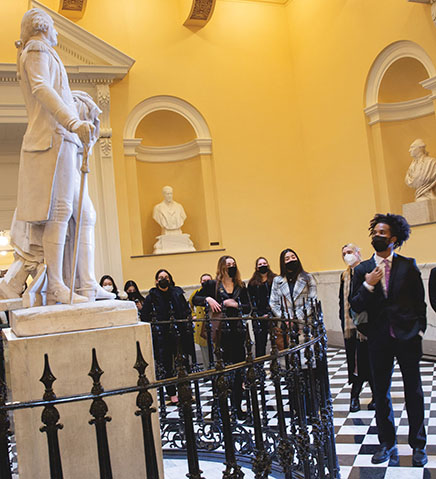 "I learned that no matter how good your bill is, if the appropriations committee says there isn't money in 
the budget, the bill will simply die in the appropriations committee," said Raymond Velez, '22 HSEP (expected). Velez maintained his representative's website news articles, developed talking points for constituent communications, drafted letters to agency heads, attended committee meetings and conducted research on COVID-19 vaccine rollout in Arlington County. He gained a newfound respect for the roles delegates play in impacting state policies.
For Taniah Easter, '21 dual B.S. in CJ and HSEP, fielding phone calls from upset constituents took some time to get used to. "Though listening to people shout was painful at first, I began to develop empathy towards the situations that they were going through," said Easter. "I began to understand that calling their delegate's office was the last option for a lot of people. I got an up-close and personal look at the situations that regular Virginia citizens went through every day — whether it was having consistent medical care access or immigration troubles — and I got to know peoples' stories. I found myself connecting these stories with legislation that was proposed."
Not only does the internship provide shoulder-to-shoulder networking opportunities, but some interns get asked to stay on to work with legislators and elected officials on campaigns. This hallmark Wilder School experience opens new career paths for many students.
"The experiences, opportunities, relationships and networks that our students are exposed to over their weeks at the state Capitol prove to be lifelong and career impacting," said Shajuana Isom-Payne, assistant dean of student services.
---
Spring 2022 / In this issue