Vision and impact
Retiring graduate program director Nancy Stutts lauded for connecting nonprofit community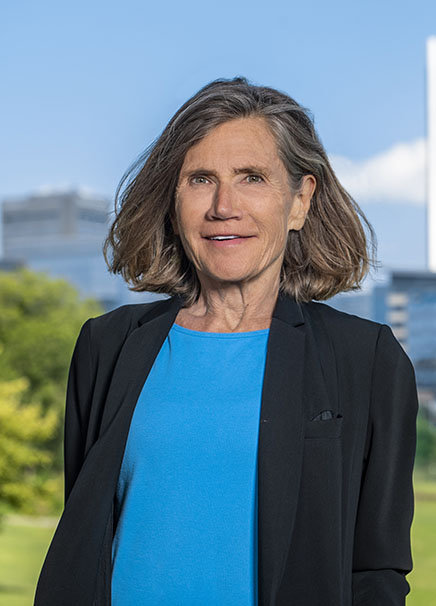 After 14 years of directing the Wilder School's Graduate Nonprofit Management Certificate program, associate professor Nancy Stutts, Ph.D., will retire in December. Since her arrival in 2007, Stutts has shaped the thinking and careers of hundreds of Wilder School students, many of whom have become nonprofit executives who are shaping the world we live in and the one we will leave behind. Her career, which includes over 30 years of direct service to nonprofits, foundations and government agencies, has advanced the nonprofit sector within Virginia and has been both reflective and instrumental to the growth and development of the Wilder School.
Stutts will be the first to tell you that she isn't big on the pageantry of instruction. A self-described "pracademic," she has never much enjoyed standing in front of a classroom and said she finds something nearly disingenuous in the pose. Instead, she sees herself as a facilitator of discovery, one who stands to gain as much from her students as they stand to gain from her.
Stutts has served in a variety of important administrative roles since the Wilder School's establishment as an independent school. She is the former director of the Graduate Nonprofit Management Certificate program, a past interim chair of the Master of Public Administration program and the architect of the enormously successful nonprofit resource known today as ConnectVA.org.
Half a lifetime ago, nonprofit management wasn't on her radar. An aspiring biologist, Stutts grew up on the East Coast and earned a master's degree in evolution and ecology from George Washington University and had begun pursuing a doctorate in ecology when she returned to Richmond to start a family. Asked when she became aware of social justice, Stutts cited the 1971 Kent State shootings. Swept up in the student protests that followed, she embarked on a line of inquiry that would ultimately lead to a lifelong interest in the essential role of nonprofits in society and a doctorate in public policy and administration, which she earned from VCU.
Stutts' first teaching appointment was at the University of Richmond, where she parlayed her passion for interactive organisms into the study of nonprofits and nongovernmental organizations.
"Nonprofits are really complex, incredibly porous organizations which do the important work of implementing public policy in a world that often stretches traditional theories used to understand organizations and policy," she said. "And I find that very exciting.
After years working in various roles among nonprofits, she launched ConnectRichmond in 2001. The platform provides searchable databases of nonprofits, event calendars, jobs, volunteer opportunities and resources to help nonprofit leaders connect and build stronger organizations.
Groundbreaking in a time when social networks like LinkedIn were nonexistent, Stutts conceived ConnectRichmond "as a portal for a living system of citizens to do good work in the world."
While the resource was eventually absorbed by the Community Foundation in 2011, ConnectRichmond solidified Stutts' thought leadership among public service leaders in Virginia and led to collaborations with former Sen. John Webb and a host of the region's power brokers.


Lured to VCU
Stutts left University of Richmond to join the faculty of VCU in 2007. She was lured by then-dean of the College of Humanities and Sciences Robert Holsworth, Ph.D., who promised an entrepreneurial environment where she could "try anything and see if it worked."
And for the past 14 years, that is precisely what she has done.
Stutts has enriched community partnerships within the Wilder School's Master of Public Administration program and served as the primary steward of its Graduate Nonprofit Management Certificate, a respected credential that has attracted countless public administrators, nonprofit executives and policymakers, several of whom have matriculated into the Wilder School's graduate and
doctoral programs.
"Nancy is a straight shooter," said Abbi Haggerty, Ph.D. (PPAD '15), executive director of Richmond Performance Alliance Arts Activity and a former Stutts mentee. "She's very real with students about what they can expect, and she really pushes students to think critically about the profession. She brings a tremendous wealth of experience to the classroom and is very intentional about making sure that her students are equipped for practice. At the same, she has a really fun personality that I think students can immediately connect with."
Over the years, Stutts has developed 14 seminars that have given Wilder School graduates the opportunity to conduct research in the community while solving real-life agency concerns — courses like "Principles of Nonprofit Management," a primer on the essential role of nonprofits and a perennial favorite among graduate students.
She's also taken on the time-consuming, unheralded work of shepherding students through foundational courses like "Topics in Public Administration," a capstone course for the M.P.A. program that features some of the most vital and public-facing service of students within the Wilder School.
"Having access to high-quality students who are willing and have the expertise to conduct technical research is an invaluable resource that helps to develop a better product. Capstone students bring a fresh perspective to the work of seasoned employees that can make for an effective pairing," said Holly Eve, director of the Virginia Department of General Services (DGS) Division of Real Estate and Facilities Management.
Eve is a return client for Stutts' "Topics in Public Administration" course and said she had worked closely with Stutts on five or six student projects over the years. Last semester, she partnered with Stutts' students on a collaboration between DGS and a professional association, which resulted in the first national performance standards for government real estate.
"The project was so successful that we asked the students to present their findings to a national group of between 50-60 professionals from the National Association of State Facilities Administrators," she said.
Stutts has also expanded her scholarship to include community-driven applied research. This work includes the creation of a developmental evaluation process that helps foundations to better determine how to give away money strategically to respond to both immediate, acute need and embedded, systemic conditions in need of sustainable change. Her clients have included the Jessie Ball DuPont Fund, the Cameron Foundation, the Community Foundation for a Greater Richmond and Richmond Memorial Health Foundation.
Those who know Stutts best describe her as a compassionate visionary and egoless collaborator with a fierce intellect and a sense of humor.
"Nancy is just an incredibly brilliant and creative mind. She's exactly the kind of bright, generous colleague that you want to have on your side. Our department has been truly fortunate to have her," said associate professor Myung Jin, Ph.D., chair of the Wilder School's Public Administration program.
That admiration is mutual, according to Stutts. "It's been a real joy to work with colleagues who are very smart, committed people working towards the very big goal of making society stronger. Individuals, who have, throughout that process, become my friends."
---
Fall 2021 / In this issue