Alumni spotlight: Joe Damico, M.P.A. '97
Discipline and military structure led to a career in public service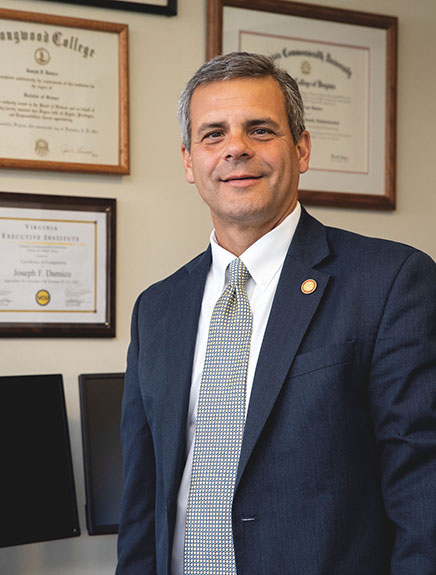 Joe Damico (M.P.A. '97, M.P.H. '00), a native of Fairfax, Virginia, was six years out of college when he entered state government. He was a P-14 possessed of a single, overwhelming thought: a certainty that he didn't know anything about government and would need to catch up very quickly if he was to become even a moderate success.
"I got introduced to ROTC in my sophomore year of college and became increasingly interested as an upperclassman," said Damico. "For me, the appeal was that it offered both an educational and career path, and that was exciting. Because of my educational background in computer science, I ended up in the U.S. Army Medical Services Corps."
Three years in the Medical Service Corps followed by a stint with a defense contractor left Damico yearning for a career in public service. A part-time position as a buyer for the Virginia Department of Behavioral Health and Developmental Services turned out to be just the foothold he was searching for.
Public purchasing, the business of acquiring and leasing everything from real estate to aircraft for the benefit of citizens, helped him find meaning outside of the military and provided immediate gratification.
"I learned a lot about structure and what it takes to function successfully in a hierarchy from my military service, and I got a little more comfortable with the discomfort of operating outside my comfort zone," said Damico. "Those who know me best know that I am very much an introvert, but I learned quickly in the military that being an introvert wasn't going to work."
In his short time at the Department of Behavioral Health, Damico earned two graduate degrees from Virginia Commonwealth University, including an M.P.A. from the Wilder School, and was twice promoted. When his career at the agency stalled, he left for the post of deputy director at the Department of General Services (DGS) and never looked back. By 2018, he became director.
Within his first few years at the agency's helm, he was nationally recognized for transforming Virginia's historic Capitol Square through construction and renovation projects, adding monuments and enhancements to infrastructure; coordinating responses to the COVID-19 pandemic; and focusing on security at the Capitol.
"The diversity of the work at DGS is what makes it challenging, but it's also what makes it so enjoyable," he said. "No two days at our agency are the same."
Spring 2022 / In this issue