Faculty, alumni and student achievements
Wilder School faculty produce outstanding scholarship, service, and leadership locally and nationally
---
Jay Albanese receives 2022 Outstanding Faculty Award from SCHEV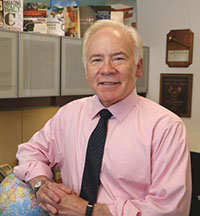 Jay Albanese, professor of criminal justice, is one of two Virginia Commonwealth University professors named as recipients of the 2022 Outstanding Faculty Awards. The award, sponsored by the State Council of Higher Education for Virginia (SCHEV) and Dominion Energy, is Virginia's highest honor for faculty at public and private colleges and universities.
"I hold the highest respect for the contributions that Dr. Albanese makes through his work as a scholar, teacher and mentor," said Wilder School Dean Susan Gooden. "It is the rare professor who glides seamlessly across international and national professional and academic audiences, while being dedicated to changing the lives of his students."
"I am grateful for this recognition. I appreciate the opportunity I have had to impact the lives of students, carry out research with public policy impacts, and perform public service to my profession, the government and the United Nations," Albanese said. "I am also thankful, knowing I should not take too much credit for my success, recognizing the intellectual and personal debts that we all owe to all those who provided mentoring, encouragement and support and contributed directly to who we are today."
Jennifer Reid awarded a faculty fellowship from the VCU Office of the Provost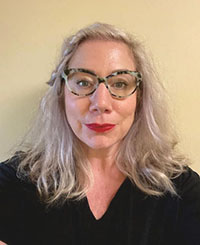 Jennifer Reid, Ph.D., director of evaluation at the Survey and Evaluation Research Laboratory at the Wilder School, has been awarded a faculty fellowship from the VCU Office of the Provost. In this capacity, she'll review university data on recruitment and retention as well as craft a coaching program for leaders across VCU. Reid's research interests lie in examining the health risk behaviors and aspects of relationships within emerging adult and adolescent populations. She has extensive experience in research evaluation, data analysis, policy review and coaching. "I am excited about this opportunity, because it will allow me to continue the work I've been doing with this office through the ADVANCE IT grant, and it will allow me to stretch my new skills as a coach," Reid said.
"I am very pleased that Jenn Reid was selected as a faculty fellow," said Susan Gooden, dean of the Wilder School. "This is an outstanding opportunity that will allow her to contribute her data analysis talents to promote recruitment and retention across VCU."
Benjamin Young explores a North Korea dictator's rise to power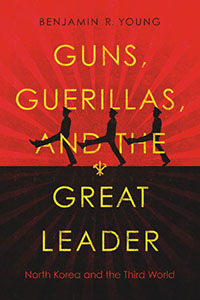 Benjamin R. Young, an assistant professor of homeland security and emergency preparedness at the Wilder School, recently published, "Guns, Guerillas, and the Great Leader: North Korea and the Third World" (Stanford University Press, 2021). The book, highlighted by Nation Magazine, tells the story of North Korea's third-world transformation from model developmental state to reckless terrorist nation and provides an unprecedented look into the causes and consequences of North Korea's struggle for international influence. Young received his Ph.D. from George Washington University in 2018. He previously taught at the U.S Naval War College and Dakota State University. He has published peer-reviewed articles on North Korean history and politics in a number of scholarly journals and is a regular contributor to NKNews.org.
Wilder School alum Steven Keener to head new academic equity and justice center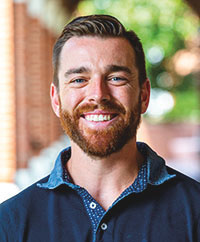 Christopher Newport University is creating a new public-facing center to examine crime, equity and justice issues. Steven Keener, who holds a Ph.D. in Public Policy and Administration and Master's in Criminal Justice from the Wilder School, is the center's director. He said a key part of his work is to connect community groups and researchers to better understand the policy issues creating inequities. The Center for Crime, Equity, and Justice Research and Policy aims to cover a broad area of topics including gender issues, inequality in health care and environmental justice.
"We want to help them do their work, while also learning from their work and the research on how we can make policy recommendations, especially at the state level," he said.
Meet alumnus Kamal Alhassan, cybersecurity advocate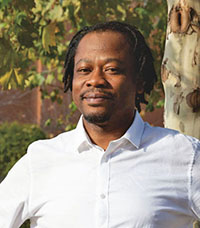 Wilder School alumnus Kamal Alhassan, Public Policy and Administration Ph.D., was born and raised in Ghana, West Africa. With the influence and knowledge gained from his uncle, he moved to New York, where he attended City University of New York-Brooklyn College. He graduated with a Master of Political Science — Urban Policy and Administration, maintaining a 3.7 GPA. Soon after graduating, Alhassan noticed the revolution in cyberspace and became fascinated by the seemingly lack of oversight in this arena. The demand for cybersecurity officers led him to the completion of professional courses that enabled him to take on a contract with a federal agency in Washington, D.C, where he performed cybersecurity-related duties.
Alhassan received the Robert Holsworth Graduate Student Enrichment Fund scholarship in the 2020-21 academic year. He also served as president of the Student Government Association and is interested in research exploring how artificial intelligence can be used to best benefit society.
"The Wilder School has provided me with tremendous educational resources, research tools and a world-class education to pursue my dream of doing work that I hope will lead to a just and equitable society," said Alhassan.
Alhassan has spoken at several events on topics including cybersecurity, government policies and impacts on society, and racial disparities and the lack of representation within his field. At First Baptist Church of Hockley, a 150-year-old church that was built by former slaves in Shacklefords, Virginia, he gave a memorable speech about the interconnectedness of Africans and African Americans.
Essays project envisions an equitable future for Richmond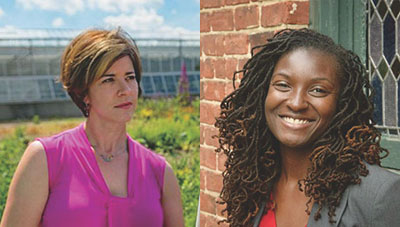 To explore a justice-based future for Richmond, Ebony Walden, an urban planning consultant and adjunct professor at the Wilder School, joined with Meghan Gough, Ph.D., an associate professor at the Wilder School, and Duron Chavis, an urban farmer and activist, to create the Richmond Racial Equity Essays. The three are collaborating to bring together community voices to explore housing, economic empowerment, education, language access, justice reform, environmental equity and more. Combined as a multimedia project with 24 essays, seven video interviews and an eight-episode podcast, the series envisions a future of possibilities from a multitude of Richmonders.
Developed as a "catalyst for engaging other voices and perspectives," the Richmond Racial Equity Essays was inspired by the 2015 Just City Essays, but pivots that project's geopolitical focus to Richmond, a city wrought with a racially complex legacy. As an inclusive community effort, Richmond Racial Equity Essays draws together many separate but concurrent urban planning and governance ideas into a locally sourced collection of nearly 50 perspectives.
All essays were compiled in an e-book format for download, and the podcast episodes
are available here: https://richmondracialequityessays.com
The American Society for Public Administration has recognized three Wilder School recipients with its annual awards
The American Society for Public Administration has recognized three Wilder School recipients with its annual awards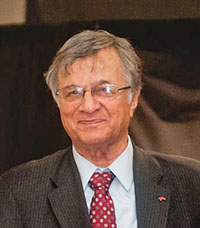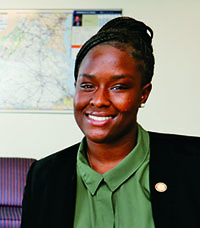 William "Bill" Leighty is the recipient of the 2022 National Public Service Award. Leighty serves as the senior strategic adviser to the Wilder School and is a former chief of staff for two Virginia governors. An elected fellow of the National Academy of Public Administration, Leighty is lauded for significant contributions as a career public servant and his dedication to improvement and making a difference in governance. Leighty's approach to his work has long been, "How can we do this better?"
Distinguished Career Professor and Professor Emeritus Blue Wooldridge was recognized with the Gloria Hobson Nordin Social Equity Award. Wooldridge, whose career at VCU spanned three decades, remains a dedicated servant-leader within the American Society of Public Administration, where he has served in countless roles, including six years of service to ASPA's National Council, four of which were also spent in service on the executive committee. He is an accomplished scholar and champion and his achievements span the successful management of multiple federally funded programs to leadership roles within National Academy of Public Administration (NAPA), the American Society of Public Administration (ASPA), the Network of Schools of Public Policy, Affairs and Administration (NASPAA), the Conference on Minority Public Administrators (COMPA) and the International Institute of Administrative Sciences.
Whitney Brown, a second-year graduate student in public administration, was honored as a 2022 ASPA Founders' Fellow. She presented a paper titled, "The Future of Power: Administration Transitions." Brown was named a Governor's Fellow in 2021 and served as a special assistant under the secretary of administration.
---
Spring 2022 / In this issue