Graduate students plan transition process for government
Unique Wilder School course taught by William "Bill" Leighty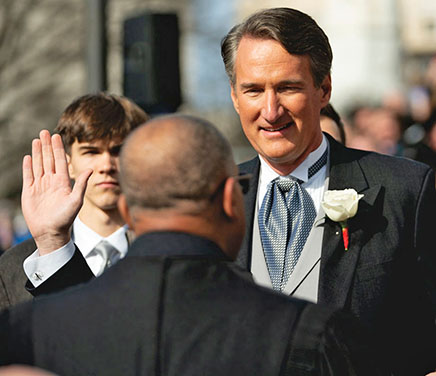 What are the best practices to ensure a smooth and successful transition from one governor's administration to the next? This is the principal question William "Bill" Leighty, Wilder School senior strategic adviser, poses to graduate students in PADM 691 – Transition Planning in State Government, a course offered only once every four years.
Leighty, who served as chief of staff to Virginia Govs. Mark Warner and Tim Kaine, is an ideal instructor, bringing tried-and-true perspectives to the learning environment. Leighty is the recipient of the 2022 American Society for Public Administration National Public Service Award and is an elected fellow of the National Academy of Public Administration. He's twice been selected by the National Governors Association to write the handbook for new governors. He served in 2011 along with Gov. L. Douglas Wilder as an adviser to the government of Nigeria to assist the 22 newly elected governors transition into office.
Virginia doesn't permit term-to-term reelection, and outside the commonwealth, nearly half of the nation's governors will be up for reelection next year. Leighty views the period from election to governing as the most critical period of a governor's term of office — no matter the state.
To prepare students to design a comprehensive transition plan, which was then presented to Gov.-elect Glenn Youngkin, Leighty enlisted a cadre of guest speakers, including Gov. Ralph Northam's chief of staff Clark Mercer, transition director Marianne Radcliff and Secretary of the Commonwealth Kelly Thomasson Mercer. These practitioners shared their successes and also what goes wrong when plans don't work out.
During the semester, grad students developed their decision-making and public policy implementation skills, expanding real-world understanding of the intense pacing, implementation realities and unexpected challenges that come with each administration's transition. They created strategies for prioritizing the legislative agenda, selecting gubernatorial appointees and managing communications messaging throughout the process.
Public policy and administration Ph.D. student Jeff Thomas recognized the challenges that all candidates face. "Campaigning is entirely different from governing, and even the most experienced political leaders will be drinking out of a fire hose after an exhausting election," he said. "The transition is the time to set up the decision-making structure that fits the incoming leader's personal style to guide her or his team throughout a successful administration."
From theory to practice, the popular course builds comprehensive approaches to the reality of transitional governance. When Leighty shared the class' collective transition plan with Gov.-elect Bob McDonnell in 2009, it eventually netted students with bonafide roles in the new administration, including seven permanent jobs. Facilitating career connections is a key reason Leighty launched the course.
"Professor Leighty leverages his network to bring experts from the field into the classroom," said Sachiko Murakami, who completed her final semester in the Master of Public Administration program. "It shows how well he knows these individuals. He brings them into a conversation knowing that they will have synergy."
Strategic planning and gaining hands-on experience along the way is not only a matter of practical importance, but it gives students the opportunity to exercise their citizenship.
"It fulfills our role, being here at the seat of government," said Leighty. "We have such a huge opportunity being just a few blocks from the Capitol to make sure that the Wilder School uses its three-legged stool of service, research and academics to support state government."
Spring 2022 / In this issue