Sharing expertise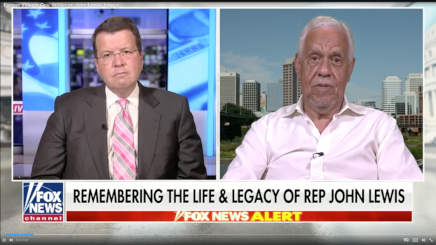 Both local and national media turned to Wilder School faculty for their expertise in public administration, emergency preparedness, urban planning and criminal justice. Gov. L. Douglas Wilder, the school's namesake and a distinguished faculty member, appeared on CNN shortly after the George Floyd murder in Minnesota. In July, Wilder appeared on Fox News to reflect on the passing of Civil Rights leader Congressman John Lewis. The country's first elected African American governor, Wilder has been interviewed by numerous state and national media outlets about the civil unrest and calls for change. In addition, the uncertain economic times created by the pandemics prompted Wilder to share the history lesson of his creation of Virginia's rainy day fund with a national audience through the Public Administration Times online magazine.
Susan Gooden, Ph.D., was a guest on the July 9 National Public Radio podcast program "Throughline" for her expertise on the 1968 Kerner Commission Report. The podcast, "The Long Hot Summer," examines the civil unrest that led to President Lyndon Johnson appointing the Kerner Commission to diagnose the root causes and suggest solutions. The Wilder School co-hosted a symposium on the 50th anniversary of the Kerner Commission Report with the Humphrey School at the University of Minnesota in fall 2018.
Local and national media tapped into the Wilder School's expertise about the impact of the COVID-19 pandemic on health care, housing and minority businesses. Elsie Harper-Anderson, Ph.D., was interviewed by NBC News on the challenges of minority-owned businesses accessing the Paycheck Protection Program. Sarah Raskin, Ph.D., published an op-ed with co-author Shelly Smith, Ph.D., director of the Doctor of Nursing Practice program at VCU, calling for legislative action on the expansion of broadband infrastructure after the pandemic magnified the limitations placed on telemedicine options in medically underserved communities.
Media also turned to the Wilder School after the killing of George Floyd to comment on the civil unrest and police actions. William Pelfrey, Ph.D., who chairs the school's homeland security and emergency preparedness program, was featured in several CBS 6 News stories on how to improve police and protester interactions and what it would mean to defund the Richmond Police department. This fall, Pelfrey will begin his work as an appointed member of Richmond Mayor Levar Stoney's task force.
---
Fall 2020 / In this issue