Letter from the dean's office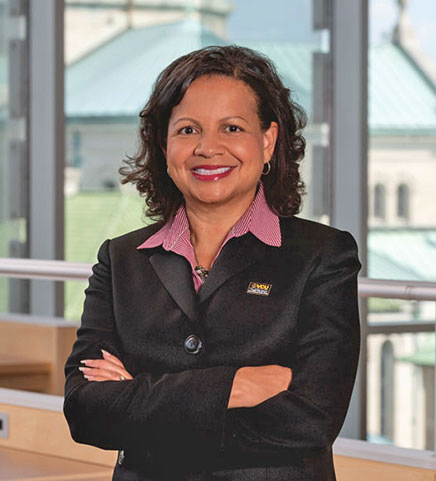 Dear Friends,
Welcome to the spring 2022 issue of Wilder School in Action. Here you'll learn more about the impacts our students, faculty and alumni are making to transform our world.
This April marks the in-person return of the 15th Excellence in Virginia Government Awards (EVGA). We're excited and honored to recognize the amazing accomplishments of Virginia's public servants, and this year's awardees are truly inspiring. We honor seven award winners, including Florence Neal Cooper Smith, our Lifetime Achievement Award recipient, for her lifelong commitment to combating sickle cell anemia. At the age of 90, she continues to aggressively pursue this goal.
Our undergraduates are continuing the tradition of the Capitol Semester policymaking internship program with the state Legislature, working alongside representatives of the commonwealth and immersing themselves in the legislative process. Likewise, our graduate students planned a comprehensive gubernatorial transition under the leadership of veteran transitional leader Bill Leighty this past fall.
I'm also excited to announce that our nationally ranked Master in Public Administration program can now be completed entirely online. This new program is designed to meet students' ever-evolving needs and schedules, removing barriers to public service education.
Our students are also fortunate to gather firsthand perspectives from expert faculty, including most notably, that of 66th Virginia Gov. L. Douglas Wilder. Our school's namesake, Gov. Wilder advances a living legacy that builds upon our common cause for public service. As the voice of the Commonwealth Poll, a vital bellwether of public opinion and insight for policymakers, Gov. Wilder was critical in revealing the views of Virginians through the 2021 gubernatorial election.
I'm proud to share the impacts of alumni like career Virginia public servant Joe Damico and LeQuan Hylton, an accomplished veteran turned real-estate entrepreneur. In these pages, you'll also learn from alumnus Ron Tillett about his path to success and why he supports student scholarships at the Wilder School.
For 1,000 undergraduate and more than 300 graduate students, we remain mission-driven to creating opportunities to advance building a more equitable and just world. Hands-on learning, innovative programming and faculty excellence all help Wilder School graduates emerge well-equipped to tackle the most pressing real-world challenges and step beyond the classroom as practitioners and leaders. I invite you to preview some of the path-breaking work we are doing at the Wilder School.
Best regards,
Susan T. Gooden, Ph.D.
Dean
L. Douglas Wilder School of Government and Public Affairs
Virginia Commonwealth University
---
Spring 2022 / In this issue