The Surprising Factor in Immigrant Success
Muslim immigrants in the United States fare better than those in other Western nations. Why? Saltanat Liebert, an immigration scholar at the VCU Wilder School, has an answer that may surprise you.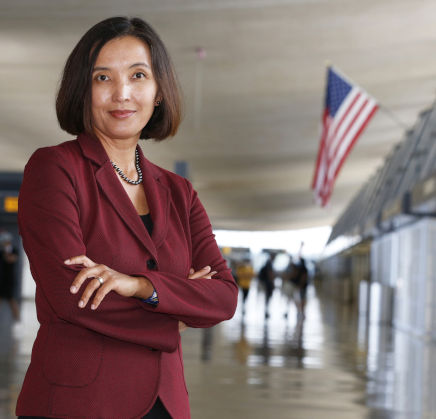 Try a thought experiment: Consider immigrants from Muslim countries in the U.S., Canada, France and the Netherlands, and rank them, from highest to lowest in income, occupation and educational attainment. Here's the correct order according to data from the Pew Research Center: U.S., Canada, France and the Netherlands.
Surprised?
For policymakers looking for the perfect foil to the U.S. immigration system, the answer is often a look northward. In Canada, where the immigration rate for "new Canadians" is three times that of the U.S. per capita, immigration policy is expansive, skills-based and politically uncontroversial.
The United States, in stark contrast, has an uncoordinated immigration policy based largely on chance and heredity.
Here, two-thirds of newcomers are admitted through a program known as family reunification, in which the candidate's fate hinges solely on whether or not they have a relative already in the country. Once admitted, the federal government offers little in the way of transition services, expecting immigrants to survive and thrive on a patchwork of services and personal networks.
Which leads us to another counterintuitive finding: Muslim immigrants in Canada have significantly higher levels of education than those in the U.S. (45% compared to 31%) but are far more likely to be unemployed or underemployed.
What explains this?
Saltanat Liebert, an associate professor of public administration at the VCU Wilder School, has an answer that may surprise you.
"Policymakers and scholars alike have typically assumed that the most effective immigration policy includes a broad range of support programs and services. This includes things like housing assistance, language classes and credentialing programs that assist immigrants in obtaining recognition for their academic and professional degrees in their host country," said Liebert.
The dominant determinant of successful integration among Muslim immigrants is the legal foundation that prevents discrimination in the workplace.

Salta Liebert, Ph.D.
"What we have discovered, however, is that the dominant determinant of successful integration among Muslim immigrants is the legal foundation that prevents discrimination in the workplace. A newcomer's ability to enter the labor force solely on their own appears to be among the most important predictors of success."
Liebert is the lead author of the article, "Integration of Muslim Immigrants in Europe and North America: A Transatlantic Comparison," published in the Journal of Muslim Minority Affairs. Her co-authors include Mona Siddiqui, J.D., a doctoral candidate in public policy and administration at the Wilder School, and Carolin Goerzig, Ph.D., lead researcher at the Max Planck Institute for Social Anthropology.
Based on in-depth interviews with subject experts and an analysis of integration policies, the study examined the factors that facilitate or impede integration in four Western nations — Canada, France, the Netherlands and the United States.
Researchers looked at integration success among myriad economic, social and cultural factors and found that Muslim immigrants in the U.S. fared best among their counterparts in all four nations.
Canada ranked second in the study, followed by France and the Netherlands.
While both the U.S. and Canada offer developed protections against employment discrimination not found in Europe, Liebert attributed the rankings to the nuance of those protections.
"In Canada you are required to demonstrate that you are either a citizen or a permanent resident before you apply for a job, but in the U.S., employers are legally prohibited from asking this question before an offer of employment is extended," she said.
"This means that immigrants who are in America on provisional visas can apply for jobs and, if qualified, be sponsored by an employer for a work visa. It's a procedural difference that means that more immigrants get their foot in the door in the U.S."
Liebert's research on Muslim immigration provides an important bellwether, both for European countries where economic and cultural integration have been less successful, and here in the U.S., where anti-Islamic sentiment has become the defining issue of a populist era.
"The most important policy implication of this research is that the labor protections that we have in the workplace are vitally important to the acculturation of immigrants," said Liebert. "Labor protections benefit all minority groups and help to ensure that no immigrant group is singled out or denied the opportunity to succeed."
AT A GLANCE
Saltanat "Salta" Liebert, Ph.D., is a leading scholar in post-Soviet governance and immigration. She is the author of "Irregular Migration from the Former Soviet Union" and the co-editor of "Public Administration in Post-Communist Countries: Former Soviet Union, Central and Eastern Europe, and Mongolia." Additionally, she is the chair-elect of the American Society for Public Administration's Section on Personnel Administration and Labor Relations and the recipient of the 2020 Julia Juanita Henderson International Award presented by ASPA's Section on Women in Public Administration.
Prior to joining the academy, Liebert worked for the World Bank, United Nations and the International Organization for Migration in Kyrgyzstan, Kazakhstan, Austria and the U.S. She has also served as a consultant on governance, migration and human trafficking issues, working with such institutions as the Protection Project of Johns Hopkins University and the International Research and Exchanges Board. Her recent scholarship is a comparative collaborative project with the Astana Civil Service Hub, an association of 40 participant nations — including France, Germany, the United States, the United Kingdom, South Korea, Japan, and Kazakhstan — designed to strengthen civil service through cooperation.
Fall 2020 / In this issue