Bridging perspectives, one shared experience at a time
A new Wilder School course immerses criminal justice students in dialogue and experiential learning with local police officers
An unprecedented year of social upheaval, 2020 was tumultous, with voices raised for stronger community-based policing across the nation. A grieving public sought answers for violence against George Floyd and Breonna Taylor, while other high-profile cases demanded stronger accountability and transparency in law enforcement.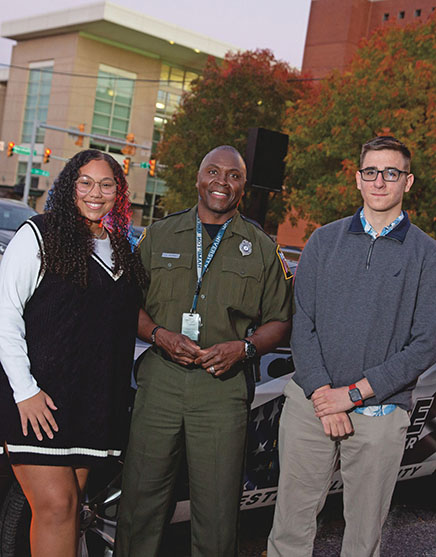 For Amy Cook, program chair and associate professor of criminal justice, the time seemed overdue to find a new way to facilitate civil dialogue on extremely difficult topics. She built an experience that would facilitate Wilder School undergraduates to connect and confront implicit biases.
During the 15-week Bridging Perspectives course, criminal justice students were paired with law enforcement officers to discuss and explore today's most significant social issues concerning community policing. Fielding topics from body-worn cameras and case studies on Ferguson, Missouri, and the shooting of Michael Brown, the class met in a shared space to confront challenges and merge academic theory with the reality of day-to-day policing.
Building a foundation for civility, discussion and 
mutual understanding
The idea for the course originated with VCU Police Chief John Venuti and Chernoh Wurie, assistant professor of criminal justice at the Wilder School and a former police officer. Wurie shared similar coursework developed by the International Association of Chiefs of Police with Cook.
Cook spent the summer building the curriculum and planning with local law enforcement agencies, emailing each police chief in the Richmond area. Eventually, Cook recruited eight police officers from five jurisdictions, who committed to participate off-the-clock each week with 21 VCU criminal justice students this past fall.
The course was co-facilitated with Clarence Hunter, an Army veteran and former member of the Richmond city and Henrico County police departments. Today, Hunter travels the country training police departments on behalf of Fair and Impartial Policing, an implicit bias education company.
For Cook, the goal of Bridging Perspectives is the same for police officers and students: to become better equipped to engage in difficult conversations in 
a manner that's not adversarial and personal, but rather focused on 
exploring and obtaining greater levels 
of understanding and consideration 
for alternative views on volatile 
topics.
Criminal justice senior Eva McDonnell enrolled in the class out of her concern for police reform and increased accountability, as well as to explore ways to demilitarize departments. McDonnell wanted to find a better way to repair relationships and regain trust.
"The focus of the reform should 
be more about police culture and changing the police culture to be more centralized around the community.
Through the semester, McDonnell benefited from engaging in dialogues about the direct experiences of her classmates and the officers. She surprised herself as she became more comfortable discussing alternative viewpoints. "I have definitely been more open to their opinions than I thought I would," she said. "Police officers were just police officers in my mind, and now 
I really see them as regular people 
like me."
"I want our students to see that police are people first, and the uniform doesn't represent who they truly are," said Cook. "When we get to know people just in the context of how we live our lives, we are going to find how we all see things is a lot more alike than how we differ."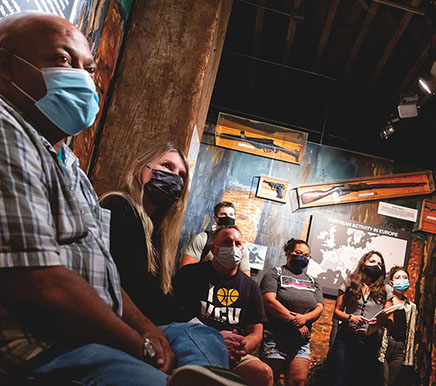 Sharing worlds, gaining perspectives
In addition to classroom instruction and discussions — and a guest lecture from Distinguished Professor Gov. Wilder — students and officers took field trips throughout Richmond, including tours of the Virginia Holocaust Museum and Monument Avenue as well as police ride-alongs.
Through journaling, students reflected on their weekly experiences. They also developed policy action plans in conjunction with officers to explore outcome-based solutions, focusing on enhancing relationships between local communities and police jurisdictions, along with the untold challenges that emerged along the way. The assignments created valuable feedback for officers to share with their departments.
"We've learned a lot about how law enforcement is left to kind of be the catch-all and the last resort for an immense variety of problems," said criminal justice senior Michael Kyrychenko. "These issues go beyond the scope of criminal justice and often include substance abuse disorders and mental health struggles. Society keeps asking officers to take on more and more responsibilities."
Officer Darryl Skinner of the Chesterfield County Police Department was eager to represent his unit and engage with students. "This is why it's so important that we hear various perspectives. I've really enjoyed working alongside the students in the breakout sessions on cases," Skinner said. "Students today are actively seeking solutions to our diverse community problems."
Cook is adamant that the course provides her students an exceptionally realistic opportunity to gather hands-on learning experiences that may eventually influence their future 
career fields.
"From a lens of public safety, this course is timely and relevant, and incredibly important to make sure that folks who will ultimately work in the criminal justice system understand how our biases impact the things that we do, how we act, what we say and how we police," said Cook.
By the end of the semester, her students' feedback demonstrated a greater understanding and appreciation of how policy affects the protocols and decision-making processes police officers face daily.
Kyrychenko shared that he has come away with a more authentic understanding of policing and police-community relations. "These experiences were unique because they took away the traditional gaps that exist between policing as we study it in the classroom versus policing as it exists in real life," he said.
Expanding learning opportunities beyond the classroom is a crossroads that grows students' real-world experiences. Addressing implicit bias attitudes — from all perspectives — has the impact to help eliminate barriers to communication and create spaces for more shared understanding.
"The Wilder School is a frontrunner on addressing policy issues," said Cook. "Criminal justice is one of those disciplines that crosses many areas, and it touches many aspects of education. So, it's important to be leaders. And that's what we're doing."
---
Spring 2022 / In this issue