Past issues
Each spring and fall, the Wilder School publishes the Wilder School in Action magazine highlighting the work of our faculty, staff, students, and alumni. If you would like to be included on the mailing list for a print copy, please email wilderschool@vcu.edu.
---
2021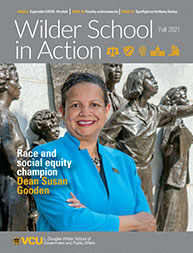 The Fall 2021 edition highlights the work of Wilder School Dean Susan Gooden and her unwavering focus on social equity issues; a celebration of our School's namesake, Governor L. Douglas Wilder, and several recent milestones including the 30th anniversary of his historic election as the nation's first African American governor and turning 90 years old; faculty member Brie Haupt, Ph.D.'s work and new book on cultural competency; and alumnus Anthony Starke's teaching and research on issues of race, democracy, identity and equity.
---
2020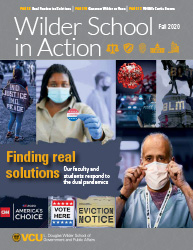 The Fall 2020 edition includes stories of faculty, students and administration on the front lines of fighting the dual pandemics of COVID-19 and structural racism; a timely Q&A with Governor Wilder; scholarly research on the key determinants of success for Muslim immigrants; and an alumni profile of VDEM agency head and co-founder of the Institute for Diversity in Emergency Management Curtis Brown (Cert.'09/GPA; MA'11/GPA). This edition also highlights the contributions of former FBI administrator Eric Witzig (M.S.'95/GPA). Witzig, who died in February, provided a transformative gift to support undergraduate students in criminal justice.
---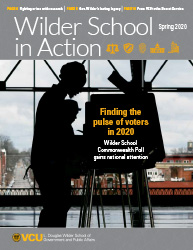 Spring 2020 highlights include celebrating The Honorable L. Douglas Wilder's legacy; the work of the Wilder School's Center for Public Policy; and a profile of Dr. Christina Mancini and her work to fight crime with research.
---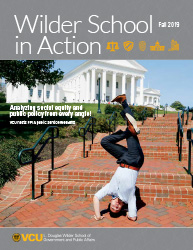 2019
Fall 2019 Highlights include the Wilder School's hosting of a Public Policy & International Affairs Program (PPIA) Public Service Weekend; celebrating the Excellence in Government Awards; and a profile of Dr. Blue Wooldridge as he transitions to a distinguished career professor and professor emeritus.